Who We Are
Dubuque Fire Equipment, Inc.
NOW LOCATED AT:
1170 ROOSEVELT EXTENSION
(off of Kerper Blvd)
Phone 563-582-6258
Toll Free
877-877-6707
Fax 563-582-8686
The History of Dubuque Fire Equipment, Inc.
Dubuque Fire Equipment, Inc. originated as Dubuque Fire Extinguisher in 1945 by a Dubuque fire fighter, Capt. William (Bill) Blaser (Tom's grandfather).  After Bill's retirement, his son Gerald (Jerry) Blaser (Tom's father), also a Dubuque fire fighter, took over for his father and continued servicing the tri-state area.  In 1986 Jerry became ill and decided to transfer his accounts to a company in Freeport, IL named Safety Services, Inc.  At the same time, Jerry's son Tom started working for Safety Services and maintained the customer service of his father and grandfather and their accounts.  In October of 2002 the opportunity arose for Tom to purchase back his father's accounts and bring a family business back to it's family .  In April of 2006 Howard Johnson of Monroe Fire & Safety approached us with his plans of retirement and expressed his desire to continue to have someone serve his accounts in the Monroe Wisconsin area.  The purchase was made and the transition took place.  At that time we added another mobile recharge vehicle and a service tech to provide for that area.  After becoming familiar with the customers in Monroe WI, Tom was approached in May of 2008,  by Kent Clausen of Protection Plus and he informed us of his father Slim's wishes for retirement also.  Once again, the purchase was made and the transition took place.  We take the same pride with all of our customers, new & old, and continue to serve them all with kindness, experience & expertise.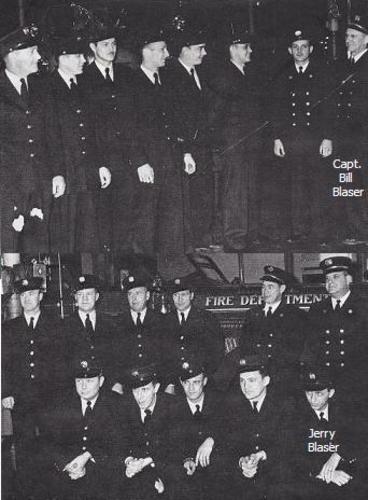 Our Qualifications, Certifications, Training and Distributorships
Dubuque Fire Equipment, Inc.'s service technicians have a combined history of over 100 years of quality service in the Tri-States Area. D.O.T. certified high & low pressure hydrotest facility. Memeber of N.A.F.E.D, N.F.P.A., & Better Business Bureau. Licensed and/or certified in IOWA, ILLINOIS, & WISCONSIN. Authorized ANSUL, Amerex, RangeGuard, Badger, Buckeye, American First Aid, EXCAB, & Magnatron Distributors.
DOT Certification E020
Illinois License 0034-AB
Iowa License FP-063
NAFED tested & certified for hand held portable fire extinguishers, restaurant fire suppression systems, & industrial fire suppression systems
ANSUL Fire School Certified





Email us your questions, your concerns, or inquiries at:
This page in memory of Bill & Jerry Blaser, also Rosemary Blaser, Terry Cavanaugh, & Jacque Kressig Hardin.