DUBUQUE FIRE EQUIPMENT, INC.
DUBUQUE FIRE EQUIPMENT, INC.
Fire Extinguisher Sales/Service & Installation * Fire Suppression Sales/Service & Installation * Kitchen Hood, Vent & Duct Cleaning * Emergency & Exit Lighting Sales/Service * First Aid Service/Sales * Carbonic Gas Sales/ Service * DOT Certified High & Low Pressure Hydro Test Facility *
ISNetworld certified with an A rating
We Take Your Safety Seriously! It's not just our job, it's Your Safety!
Dubuque's "ORIGINAL" Fire Equipment Company since 1945. The real family owned business, started by Dubuque Fire Department Captain William "Bill" Blaser in the basement of his home on W 3rd St. in Dubuque, Iowa in 1945. We don't just SAY we're from Dubuque, WE ARE FROM DUBUQUE!
ELECTRONIC RECORD KEEPING & BAR CODING
We are state required ICC licensed, maufacturer trained, & certfied
( IOWA# FP-063 / ILLINOIS# 0034-AB / WISCONSIN# 1213253)
located & BASED in Dubuque, IA with over 95+ combined years of experience and certifications. WE ARE FACTORY TRAINED BY THE MANUFACTURERS (Ansul, Amerex, RangeGuard) OF SEVERAL DIFFERENT FIRE SUPPRESSION SYSTEMS not just a one day seminar covering several systems. We are also certified through ICC / NAFED and have several hours of continuing education classes state and manufacturer sponsored
24 Hour Emergency Service 
Toll Free 877-877-6707
Welcome to our webpage. Please browse and enjoy. Thank you for checking us out! Feel free to contact us with questions, inquiries, and comments.
Courtesy, Experience, Loyalty, Knowledge, Honesty, Integrity, Respect, Concern, Patience & Compassion are just some of the great attributes Dubuque Fire Equipment Technicians and Associates excell at in providing your service needs.
Do not let service companies cut corners on your life saving equipment service. Cutting corners and saving nickels does NOT mean saving lives and property.
Dubuque Fire Equipment, Inc. has an excellent reputation of servicing the Tri-States Area since 1945. (A+ Accredited Business rating with the Iowa Better Business Bureau since joining in 2003)
Dubuque Fire Equipment, Inc. is a locally owned family operated business since 1945. We strive to make your safety our business. We have been the Tri-States' choice for service for over 60 years and will continue to put your safety needs as our top priority. Safety isn't a priviledge, it's your right. Dubuque Fire Equipment is here to help. As you can tell by our webpage, honesty is also a top priority. Please feel free to contact us with your questions, concerns, and inquiries.
24 Hour Emergency Service
Dubuque Fire Equipment, Inc.
NOW LOCATED AT:
1170 Roosevelt Extension
(off of Kerper Blvd)
-Dubuque, IA 52001
Phone (563) 582-6258
Toll Free (877) 877-6707
Fax (563) 582-8686
email: chuckm@dubuquefire.com
maggieb@dubuquefire.com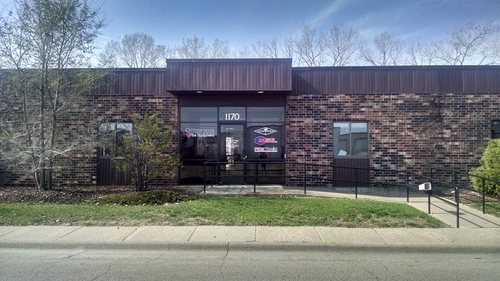 Family owned & operated local business

Authorized, Certifed Ansul, Amerex, RangeGuard, & Badger Distributor

ISNetword Certified with an "A" rating

Servicing In Iowa -approx. 100 mile radius of Dubuque

ICC (International Code Council) / NAFED (National Association of Fire Equipment Distributors)Certified Hand Portable Fire Extinguishers, Pre-engineered (Restaurant Kitchen Hood) Fire Suppression Systems, Pre-Engineered Industrial Fire Suppression Systems.

Iowa License FP-063

Servicing In Wisconsin - Southwestern Wisconsin

Servicing In Illinois - Northern Illionis

Illinois License 0034-AB

Dubuque Fire Equipment, Inc. is a D.O.T. certified (E020) high and low pressure hydro-test facility. All hydro testing is done locally with a much quicker turn around time. Our capabilities are for testing S.C.B.A. & S.C.U.B.A breathing air tanks, oxygen cylinders, carbonic gas cylinders, CO2 fire extinguisher cylinders, and some of the paintball air & CO2 cylinders.

We have (7) seven mobile recharging vehicles for "on-site" recharging and servicing of fire extinguishing equipment. Avoid being "without" your life saving equipment when you need a recharge or service, let us come to you.