Accessories
Dubuque Fire Equipment, Inc. offers a variety of safety services because we care about your safety.
FIRE EXTINGUISHER CABINETS and COVERS
Red Mark Cabinets are molded of tough, impact-resistant ABS plastic.
Ambassador Series Cabinets are availiable in surface mount, fully recessed, and semi-recessed models. All of these cabinets are made of steel with electrostatic white epoxy finish, continuous hinge door, double strength door glass and 1 1/4" face width on the trim door.
Vinyl Covers with black imprint are made of reinforced vinyl with hook and loop closures. Fits portable, pressurized and cartridge operated extinguishers. Red with black imprint and trim.
Brackets Wall hangers and vehicle brackets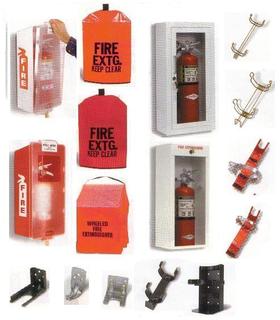 FIRE HOSES and ACCESSORIES
Fire Hose Multiple choices in size, texture, length, and types.
Fire Hose Accessories Couplings, rings, gaskets, nozzles, reducers, caps, plugs, valves, wheels and adapters.
Fire Hose Racks and Reels Pin racks, economy hose reels, heavy duty hose reels, hump racks, and hangers
Rack and Reels Accessories Covers, clips, straps, nipples, wrenches, and axes.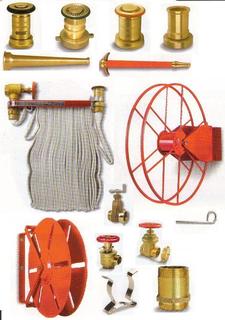 HOOD FILTERS and ACCESSORIES
Aluminum Hood Grease Filters are lightweight for easy handling. Replacing mesh filters that are no longer acceptable per NFPA96.
Stainless Steel Cleaner/Polisher removes grease film, finger marks and covers scratches, leaving a protective coating that preserves surfaces.
Hood Light Fixture made of cast aluminum. Comes prewired with 6" leads and a frosted , plastic coated, heat tempered globe that won't discolor with heat.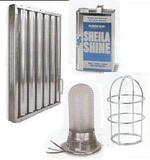 FIRE ALARM PRODUCTS
Alarm Bells for use in burglary, fire alarm, & sprinkler systems.
System Sensor's SpectrAlert-Wall mount series include a complete line of electronic strobes and horn/strobes.
Alarm Manual Pull Station with steel back plate and 10 amp snap action switch.
Pull Station Protectors are made of clear lexan with or without 85 db horn. Fits most pull stations.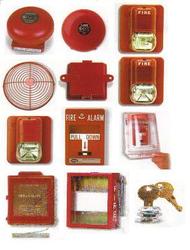 Emergency & Exit Lighting Units and Accessories
Exit Signs are flame retardant, with high impact, thermoplastic housings, with/without battery backup.
Emergency Lighting are low profile design in a neutral finish of injection flame retardant, high impact housing.
Combination Emergency/Exit Lights meet both exit and emergency lighting needs in one economical unit.
Accessories include batteries, bulbs, cages, and replacement parts.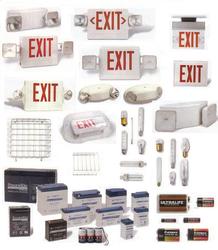 Workplace Protection
Fall Protection Harnesses
Lock-Out Tag-Out hasps, butterfly valve lockouts, wheel valve lockouts, circuit breaker lockputs, tags, group lock boxes, stations, Lock a plug, and padlocks.
Identification Tape
Clothing Coveralls, gloves, helmets, sheilds, raingear, safety vests, hearing protection, eye protection,
Traffic Accessories cones, flares, director lights, triangles regulation manuals, DOT supplies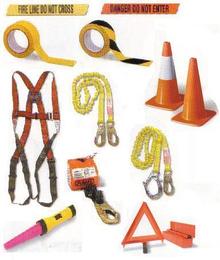 Safety Products for your Home
Smoke Alarms DC or AC operated with battery backup. Hearing impaired alarms. Photoelectric.
Carbon Monoxide Alarms Battery or electrical with battery backup, direct mount detectors
Combination Alarms of Smoke and Carbon Monoxide detectors all in one.
Detector Accessories are cage guards, batteries, and testing devices.
Fire Escape Ladders roll up for storage.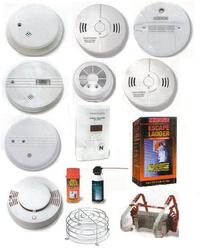 Flammable Liquid Storage Cabinets
Safety Storage Cabinets hold your flammable and corrosive liquids. Wall mount , bench, undercounter, compact, and free standing.
Type I Safety Cans for carrying flammable liquids. Features terne plate(lead/tin coated steel) construction to protect cans against abrasion and rough use.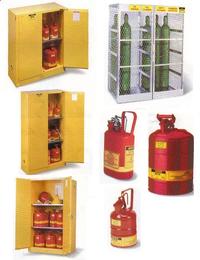 This website is provided by Tom Blaser, Owner, Dubuque Fire Equipment, Inc.
DbqFire.net is designed, serviced, and maintained by Maggie Blaser