Fire Suppression Systems
Dubuque Fire Equipment, Inc. performs service, sales, and installations of fire suppression systems (restaurant & industrial).
RESTAURANT APPLICATIONS
(Click on the picture to find additional information on products)
All kitchen fire suppression systems require inspection and testing every six months/semi-annual per NFPA17

Restaurant/Industrial Fire Suppression Systems - NFPA 17, 17A, 96

3-3.1    At least semi-annually, maintenance shall be conducted in accordance with the manufacturer's listed installation and maintenance manual.
2-11.3    Fixed temperature sensing elements of the fusible metal alloy type shall be replaced at least annually or more frequently if necessary to assure proper operation of the system.

Here is a list of some the items that are required to be checked and tested by a certified, trained technician:

    
  1. Terminal fuse link on detection line is cut.
  2. Manual pull station is pulled.
  3. Make sure fuel supply shuts down.
  4. Nozzles are free of blockage.
  5. Nozzle and appliance line-up has proper coverage.
  6. Nozzle caps are in place.

        

  7. Make sure make-up air shuts down.
   
  8. Exhaust fan is operating properly.
  9. Cylinder is inspected for corrosion.
10. System pressure is within specs.
11. Fusible links are replaced.
12. Did system activate alarm if applicable.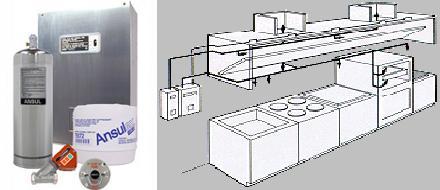 R-102 Fire Suppression System
The ANSUL R-102 Liquid Agent System continues to be the #1 protector of today's kitchen equipment. Choose from either of two design options.
Ansul R-102 fire suppression systems use a potassium based chemical extinguishing agent. The agent reacts with hot grease to form a blanket of foam in a process called saponification that seals the hazard depriving the fire of oxygen. These systems are designed to protect hoods, ducts, plenums, filters, and cooking equipment. The wet chemical system is available in two types, Applicance Specific and Full Flood.

Appliance-Specific Design. The most efficient fire protection is accomplished when nozzles are selected and aimed at specific hazard areas on each appliance. This method typically provides the most economical use of liquid agent reducing the size or quantity of storage tanks and associated hardware.

Overlapping Appliance Protection. When flexibility and simplicity are most important, nozzles are placed in a straight-line arrangement providing overlapping agent discharge patterns. This creates a virtual fire-free zone where appliances of various types and sizes are protected - even if they are replaced or rearranged under the hood.
The ANSUL restaurant systems have lead the industry since the inception of kitchen fire suppression. The R-102™ and PIRANHA® systems promotional DVD allows the viewer to fully understand the advantages of these leading kitchen fire suppression systems while building a strong knowledge base on how the systems work. Please contact us if you would like to view this video before making your choice.
PIRANHA Fire Suppression System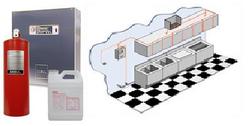 Ansul Piranha fire suppression uses both wet chemical and water to suppress the fire. Similar to the other systems, a wet chemical agent is used to blanket the fire with foam, followed by water, to cool the hazard. By cooling the area, the chance of a flare up is reduced. Dual agent fire suppression systems are available both as appliance specific and full flood and use a fusible link detection system.
ANSUL PIRANHA systems employ the best firefighting attributes of two extinguishing agents...
The fast flame knockdown and securing power of wet chemical.
The fast cool-down capability of water.
Tests using the "Double-Agent" Concept have shown dramatically increased firefighting performance
Twice the coverage of conventional single-agent systems
Cools down cooking oils 15 times faster than wet chemical systems
Flexible overlapping nozzle coverage for most appliance arrangements
Smaller and fewer agent storage tanks required per system
RangeGuard Fire Suppression Protection

Range Guard, Badger Fire Protection's Wet Chemical Fire Suppression System, uses KARBALOY, the superior wet chemical agent first developed over 37 years ago. Range Guard was the FIRST, and remains the BEST!

Range Guard systems guard against

facility damage

potential injury of personnel and patrons

lost profits due to business interruption

Range Guard systems assure

quick fire detection and suppression

24-hour, continual fire protection

superior wet chemical coverage that quickly

suppresses fires and prevents reflash

quick clean up

Range Guard exceeds UL 300 standards
ANSUL I-101 Fire Suppression (Paint Booth application)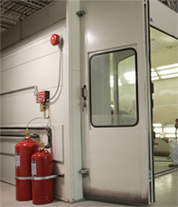 The I-101™Industrial Fire Suppression System has been pre-engineered for industrial hazards like paint spray booths, dip tanks, and flammable liquid storage rooms. Designed for flexibility and economy, the system features mechanical or electrical detection, total flooding or local application methods, two extinguishing agent options, and multiple tank capacities for Class A, B, and C fire hazards in a wide variety of industrial configurations.
The ANSUL® I-101 system industrial dry chemical fire suppression system combines a simple design, ease of installation and superior fire suppression for industrial applications including industrial paint spray booths, open-faced industrial paint spray booths, hazardous material and flammable liquid storage buildings, and paint lockers.
ANSUL SAPPHIRE Fire Suppression Systems
ANSUL SAPPHIRE fixed nozzle, fire suppression systems uses 3M Novec 1230 fire protection fluid for total flooding applications. The agent has 0.0 ozone depletion potential, an atmospheric lifetime of just five days, and a global warming potential of 1.0. Every SAPPHIRE system is custom engineered for the specific application using the most effective, yet efficient arrangement of storage, actuation, distribution and discharge component
Fusible Links

Automatic discharge of the system is provided by a number of strategically placed fusible links. These links are available in varying temperatures. The links are connected to the automan via wire rope, which is mechanically protected inside galvanized steel conduit. These links are required by manufacturer to be service and replaced on a semi-annual basis.
Remote Pull Stations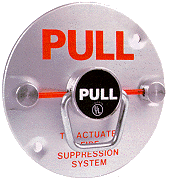 The system may be manually actuated from one or more manual pull stations. The manual pull station will normally be sited remotely from the canopy and is connected to the automan via steel wire again protected inside a galvanised steel conduit

Rubber Nozzle Caps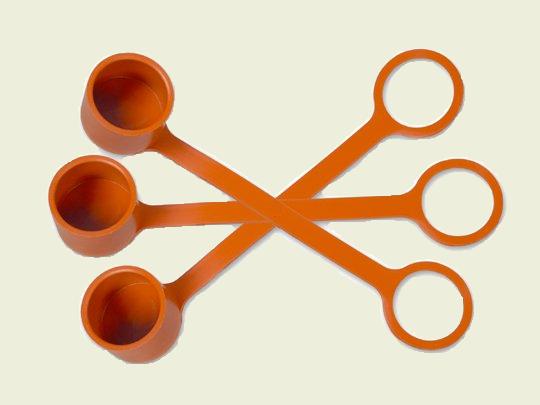 Rubber nozzle caps are used on liquid fire suppression systems to eliminate grease or debris build up in the nozzle, so the chemical will flow freely and accurately when the system is discharged. Nozzle caps are required to be replaced annually or when damaged or missing.
Nitrogen Fire Suppression Cartridge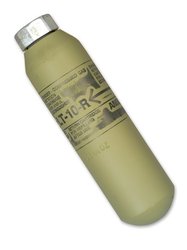 The liquid is stored in mild steel storage tanks. The tank is only pressurized when the system is activated. A nitrogen cartridge provides pressurization of the tank. As the tank is pressurised the liquid is driven from the tank through the distribution pipework to the discharge nozzles.

Baffle Filter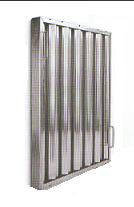 Please contact:
with any inquiries or orders
Thank you
This website is provided by Maggie Blaser, Owner, Dubuque Fire Equipment, Inc.
DbqFire.net is designed, serviced, and maintained by Maggie Blaser