Guest Book
Please Sign Our Guestbook
Thank you for visiting our site. Please leave your comments, inquiries, and suggestions by signing our guestbook. Click here to view entries.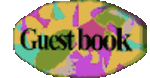 Please click on the "Guestbook" animation to sign our guest book
We greatly appreciate your visit to our website. Please sign our guest book and let us know how we can serve you better. Your safety IS our concern. Thank you!!!